The PC video game, Zoo Tycoon 2: Extinct Animals is an expansion pack of Zoo Tycoon 2 that features 36 extinct animals and dinosaurs. It was released in October 17, 2007. This expansion pack follows the other expansion packs, Endangered Species, African Adventure and Marine Mania. Extinct Animals replaces, and includes the similar Zoo Tycoon 2: Dino Danger Pack premium download.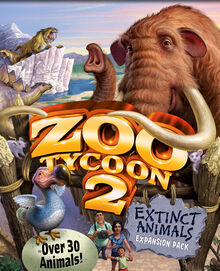 Ad blocker interference detected!
Wikia is a free-to-use site that makes money from advertising. We have a modified experience for viewers using ad blockers

Wikia is not accessible if you've made further modifications. Remove the custom ad blocker rule(s) and the page will load as expected.