Titanosaurus
Name
Titanosaurus
Order
Saurischia
Suborder
Sauropoda
Class
Reptilia
Name Translation
Titanic Lizard
Period
Late Cretaceous
Location
India
Diet
Plants
Size
9–12 metres (30–40 ft) and 13 tons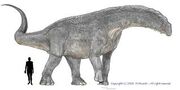 Titanosaurus was a huge titanosaurid sauropod that lived in India, Asia, Argentina and South America. Like its relative,
Saltasaurus
, it had Dragon-like lumpy spikes on its back. Its teeth looked like a garden rake. It was the first Titanosaurid to be discovered. It is a nomen dubium.
Ad blocker interference detected!
Wikia is a free-to-use site that makes money from advertising. We have a modified experience for viewers using ad blockers

Wikia is not accessible if you've made further modifications. Remove the custom ad blocker rule(s) and the page will load as expected.