Paraceratherium
Temporal range:

Oligocene

An artist's illustration of Pareceratherium transouralicum
Scientific classification
Kingdom:
Animalia
Phylum:
Chordata
Class:
Mammalia
Order:
Perissodactyla
Family:
†Hyracodontidae
Subfamily:
†Indricotheriinae
Genus:
†Paraceratherium
Forster-Cooper, 1911
Type species

†

Paraceratherium bugtiense
Pilgrim, 1908
Referred species

†

Paraceratherium bugtiense (Pilgrim, 1908)

†

Paraceratherium orgosensis? (Chiu, 1973)

†

Paraceratherium prohorovi (Borissiak, 1939)

†

Paraceratherium transouralicum (Pavlova, 1922)

Synonyms

Genus synonymy

Species synonymy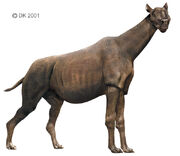 In the Media
Edit
Paraceratherium was seen in a 1981 Stop Motion documentary called Mark D. Wolf's Age of Mammals under its' name "Baluchitherum".
It was also seen in Walking with Beasts under its' name "Indricotherum".
It also appears in a documentary Life After Dinosaurs by National Geographic.
It also appears in Top 10 Biggest Beasts ever on National Geographic later re titled as Worlds Biggest Beast on The Smithsonian Channel.
It also appears in Jurassic Park: Builder under the name "Indricotherium".
It also appears in ARK: Survival Evolved.
Paraceratherium is a Legendary Savannah creature that can be created in Jurassic World: The Game under its' junior synonym Indricotherium.
Ad blocker interference detected!
Wikia is a free-to-use site that makes money from advertising. We have a modified experience for viewers using ad blockers

Wikia is not accessible if you've made further modifications. Remove the custom ad blocker rule(s) and the page will load as expected.