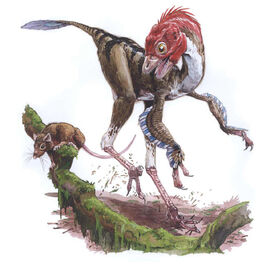 Mei Long
(meaning
 sound asleep slumbering dragon
) is a
Troodontid
 from early Cretaceous China.
Most evidence points to Mei being a omnivore, but like some other of it's relatives, it might have eaten leaves on occasion for some unknown reason. if it was a carnivore, it would eat rodents, lizards and maybe even hatchling dinosaurs, it may have also have been an egg thief.
In the Media
Edit
Mei Long Made it's appearance in Prehistoric Park.
It also featured In a 2007 Documentary Mammals Vs Dinos: The Rise of Mammals.