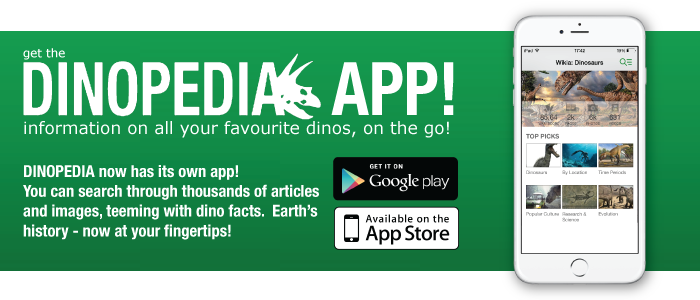 Directory
| | | |
| --- | --- | --- |
| Dinosaurs | Other Animal Life | Extinction |
| Time Periods | Research & Discovery | Popular Culture |
On This Day - April 24
1944: Numerous dinosaur specimens, such as the first Spinosaurus fossils and Aegyptosaurus, were destroyed after an Allied Forces bombing raid in Munich, where the fossils were located.
Create an Article
To create a Dinosaur related article, type a title in the box below, and click Create article. But before you do, please check if the article already exists on a different name.
We need your help
Dinopedia is a constantly growing encyclopedia of dinosaur knowledge. To help the wiki grow, use the search tools provided to find a section of the wiki to help improve. You can improve the wiki by adding more accurate or current information, images, data, and much more. Look around and see how you might like to contribute!
Dinopedia Community
| | |
| --- | --- |
| About Dinopedia | Writing Articles |