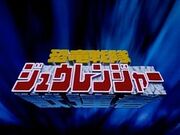 Kyōryū Sentai Zyuranger (恐竜戦隊ジュウレンジャー Kyōryū Sentai Jūrenjā?) is the sixteenth installment in the Super Sentai franchise. It was the first Super Sentai series to be adapted into an installment of the American Power Rangers series - footage from all 50 episodes were extensively used for the first season of Mighty Morphin Power Rangers.
From hundreds of millions of years ago, in the age of the dinosaurs, 5 warriors revive in the present time!" ―Narrator
170,000,000 years ago, five ancient human tribes, with the protection of the Guardian Beasts, coexisted with the dinosaurs. This ended when the evil Witch Bandora started a war on the dinosaurs because of the death of her son Kai. Bandora decided that the only way Kai's death could be avenged was if she sold her soul to Great Satan, an evil, almost ice-like head creature who had immense power and who later in the series could be summoned by Bandora. In the end, the five tribes were ruined and the dinosaurs became extinct. The Guardian Beasts sealed Bandora and her minions on the planet Nemesis before going into hibernation. In 1992, Nemesis returned to Earth's orbit. Two astronauts exploring the planet accidentally released her and her minions from their prison. With Bandora free, her arch-enemy, the Mysterious Wizard Barza retreated to his underground lair 2,000 metres belows the apartment building where he worked as a front. There, he revived the five Holy Warriors of Justice he had been guarding, who had been in suspended animation to be awakened when they were needed. These five were each a member of the ancient human tribes, who coexisted with the dinosaurs. With the aid of the Guardian Beasts, the Zyurangers fought Bandora and her Dora Monsters. Later in the series, after the five had become used to modern times, the leader's big brother comes forth with tales of jealousy and vengeance.
Characters
Edit
Write the second section of your page here.
Daizyuzin
Edit
Ad blocker interference detected!
Wikia is a free-to-use site that makes money from advertising. We have a modified experience for viewers using ad blockers

Wikia is not accessible if you've made further modifications. Remove the custom ad blocker rule(s) and the page will load as expected.