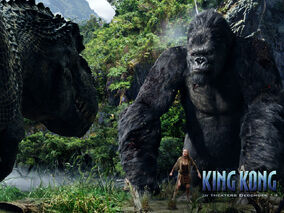 King Kong (2005) is a movie directed by Peter Jackson, the director of The Lord of the Rings trilogy.
Creatures
King Kong the gorilla
Venatosaurus saevidicus
Foetodon
Vastatosaurus rex
Ferrucutus cerastes
Trivia
Tyrannosaurus rex is similiar with the dinosaur V-Rex in the movie. V-Rex can be mistaken as a Tyrannosaurus. But if you look carefully, you can see some differences.