Hypacrosaurus
is a
Lambeosaurine
 hadrosaur from late Cretaceous Alberta, Canada and Montana, USA.  It was about 32.8 ft (10m) long and weighed about as much as a rhino.  Known from eggs and nests, juveniles through adults, and whole herds.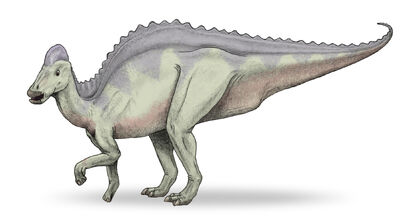 Popular Culture
Edit
One of the Hypacrosaurus made some appearances in one of The Land Before Time Movies.
The Next appearance they made was in Discovery Channel's Documentary Dino Lab II where a Family of Hypacrosaurus was seen.
In Dink, the Little Dinosaur the episode "Encounter At Flatrock", Cornelius is a Hypacrosaurus was once a rival of Dink's.