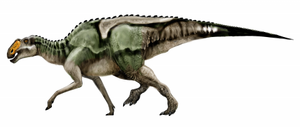 Gryposaurus ("hooked-nosed lizard") is a genus of hadrosaurid (duck-billed) dinosaur. It lived about 83-74 million years ago, in the Late Cretaceous of North America.
Popular Culture
Edit
Gryposaurus made it's 1st animated appearance in Disney's Fantasia.
One of the Gryposaurus made some appearances in one of The Land Before Time Movies.
In In How I Paint Dinosaurs James Gurney Illustrates a Gryposaurus being brought down by a Teratophoneus.
References
Edit
Ad blocker interference detected!
Wikia is a free-to-use site that makes money from advertising. We have a modified experience for viewers using ad blockers

Wikia is not accessible if you've made further modifications. Remove the custom ad blocker rule(s) and the page will load as expected.