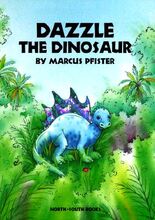 The appeal of this somewhat run-of-the-mill story is boosted by the use of a reflective overlay on the tiny prehistoric hero's spines-the same technique that brought bestsellerdom to Pfister's The Rainbow Fish. Readers first meet Dazzle (a Ouranosaurus) as a sparkly egg that has mysteriously appeared in Mother Maiasaurus's nest. He hatches at the same time as little Maia (a Maiasaurus), and they become fast friends, exploring the valley where they live and dodging its many dangers-including the bloodthirsty Tyrannosaurus Rex. Dazzle vows to rout the evil Dragonsaurus who drove the Maiasauruses from their valley, a quest ensues, and the flashy hero's shiny spines save the day. Pfister's soft pen-and-wash illustrations, rendered in soothing hues of lavender, soft green and blue are pretty, though oddly bland-with the exception, of course, of Dazzle's shiny spines. There is some fact woven into this fantasy, but these wide-eyed dinosaurs have more in common with Barney than with the exhibits of a natural history museum.
Ad blocker interference detected!
Wikia is a free-to-use site that makes money from advertising. We have a modified experience for viewers using ad blockers

Wikia is not accessible if you've made further modifications. Remove the custom ad blocker rule(s) and the page will load as expected.