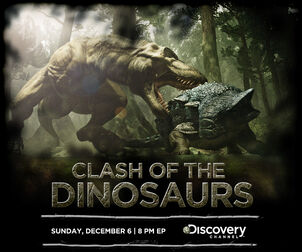 Clash of the Dinosaurs is a TV show first aired in 2009.
Scientists
Edit
There are several scientists and palaeontologists commenting in Clash of the Dinosaursk, including Matt Wedel.

The commentator is Richard Coyle.
The Dinosaurs featured in Clash of the Dinosaurs are:
What it does
Edit
Clash of the Dinosaurs uses new technology to look inside dinosaurs, at how their muscles work, at brain size, their senses, how the lived, and how they hunted.
Ad blocker interference detected!
Wikia is a free-to-use site that makes money from advertising. We have a modified experience for viewers using ad blockers

Wikia is not accessible if you've made further modifications. Remove the custom ad blocker rule(s) and the page will load as expected.