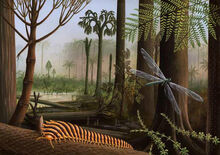 The carboniferous is a geologic period and system that extends from the end of the Devonian Period, at 358.9 ± 0.4 million years ago, to the beginning of thePermian Period, at 298.9 ± 0.15 Ma. The name
Carboniferous
 means "coal-bearing" and derives from the Latin words 
carbō
("coal") and 
ferō
 ("I bear, I carry"), and was coined by geologists William Conybeare and William Phillips in 1822.
Ad blocker interference detected!
Wikia is a free-to-use site that makes money from advertising. We have a modified experience for viewers using ad blockers

Wikia is not accessible if you've made further modifications. Remove the custom ad blocker rule(s) and the page will load as expected.