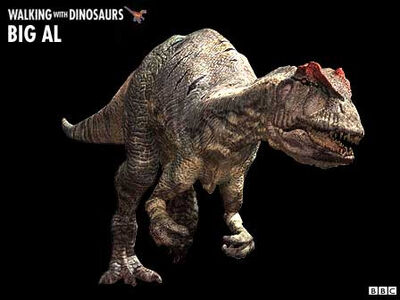 Big Al was prehaps the most famous allosaurus ever discovered. Living only 7 years due to many injuries, he was featured in the Walking with Dinosaurs special " The Ballad of Big Al." He died as a result of a toe infection. It's injuries were so much that, scientists had to research every wound to figure out why this specimen was so wounded. Many scientists believe that it was the ring leader of one Allosaurus pod.
Ad blocker interference detected!
Wikia is a free-to-use site that makes money from advertising. We have a modified experience for viewers using ad blockers

Wikia is not accessible if you've made further modifications. Remove the custom ad blocker rule(s) and the page will load as expected.