This article is under construction.
This article is currently under construction by a user. To avoid edit clashes, please do not edit until this template has been removed.
Australopithecus is a human relative from Pleistocene Africa.  It had an enlarged skull, a protruding forehead, had a social hierarchial authority, and was able to use tools.  It was one of the earliest humans (following Sahelanthropus).
In Popular Culture
Edit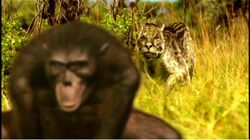 Ad blocker interference detected!
Wikia is a free-to-use site that makes money from advertising. We have a modified experience for viewers using ad blockers

Wikia is not accessible if you've made further modifications. Remove the custom ad blocker rule(s) and the page will load as expected.