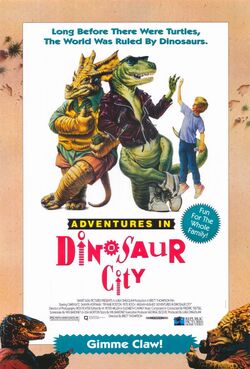 Adventures in Dinosaur City
is a 1991 television film directed by Brett Thompson.
The story involves a trio of teenagers, named Timmy, Jamie and Mick, who enjoy watching their favorite TV show which features anthropomorphic dinosaurs. Wanting to watch it on a better screen, Timmy, the youngest of the three, suggests that they try watching it on his father's screen in his laboratory. The moment they turn it on, a vortex sucks the three into the TV screen, and into their favorite show. Upon entering the new world, the trio comes across a flightless Dimorphodon named Forry. Although reluctant at first to help them, his knowledge of Dinosaur City proves useful, as he guides the three to Tar Town, where they join up with Rex and Tops, two dinosaur freedom fighters willing to ignite a revolution against the villain, Mr. Big, and his caveman henchmen, "The Rockies".
Omri Katz as Timmy
Tiffanie Poston as Jamie
Shawn Hoffman as Mick
Pete Koch as Link
Megan Hughes as Missy
Don Barnes as King
Paul Eiding as King (voice)
Kimberly Beck as Chanteuse
Tony Doyle as Rex
R. A. Mihailoff as Mr. Big
Patrick Labyorteaux as Rex (voice) / Mr. Big (voice)
Marc Martorana as Tops
David Jolliffe as Tops (voice)
Irwin Keyes as Guard #1
Barney Burman as Guard #2
David Winter as Guard #3
Sebastian Massa as Bear
Mimi Maynard as Dana
Steven Anderson as Gil
Rob Sherwood as Forry (voice)
Spike Miller as Bartender (voice)
Kevin Thompson as Mr. Small
Ad blocker interference detected!
Wikia is a free-to-use site that makes money from advertising. We have a modified experience for viewers using ad blockers

Wikia is not accessible if you've made further modifications. Remove the custom ad blocker rule(s) and the page will load as expected.