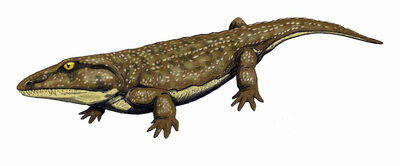 Acheloma
Name
Acheloma
Class
Chordata,‭ ‬Amphibia,‭ ‬Temnospondyli,‭ ‬Trematopidae
Name Translation
Unknown
Period
Permian
Location
USA, Oklahoma, Texas
Diet
Carnivore/Piscivore
Size
Unknown
Acheloma (also known as Trematops milleri) is an extinct genus of temnospondyl that lived during theEarly Permian.[1][2] The type species is A. cumminsi.Trematops milleri has been synonymized with Acheloma. Like other trematopids, Acheloma was a large terrestrial carnivore. One species, A. dunni, may have been the top predator of the diverse Richards Spur assemblage in Oklahoma. The following cladogram shows the phylogeneticposition of Acheloma, from Polley & Reisz, 2011.[3]
Remians inculde Holotype (OMNH 73281): nearly complete skull with associated atlas–axis complex and partial lower jaw.

Referred specimens: BMRP2007.3.4 (skull),  BMRP2007.3.1 (snout), OMNH
52365 (jaw articulation), OMNH 73514 (pelvic girdle), OMNH 52545, (right humerus)
Ad blocker interference detected!
Wikia is a free-to-use site that makes money from advertising. We have a modified experience for viewers using ad blockers

Wikia is not accessible if you've made further modifications. Remove the custom ad blocker rule(s) and the page will load as expected.